Points of Interest
Raton, New Mexico, and the surrounding area, contain many historic attractions and exciting places to visit.  Other places to visit may be found under Recreation.  The following are a few examples of what can be found in Raton and nearby.
---
Located right in Raton is one of the few places in the United States where you can actually see the K-T Iridium Layer Boundary which marks the extinction of the dinosaurs due to Earth being struck by a large meteor some 66 billion years ago.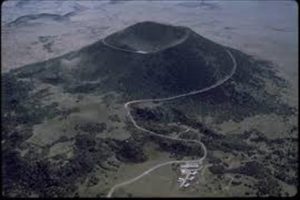 ---
Capulin Volcano National Monument is located just a little over 30 miles to the east of Raton, a short distance off US Highways 64/87.  This US National Monument features an extinct cinder cone volcano that is part of the Raton-Clayton Volcanic Field.   A paved road spirals around the volcano and visitors can drive up to a parking lot at the rim. Hiking trails circle the rim as well as lead down into the mouth of the volcano.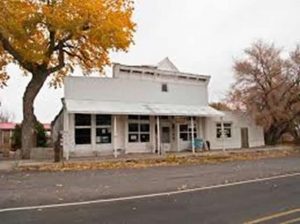 ---
Follow NM Highway 325 northward from the Capulin Volcano National Monument to where it meets NM Highway 72 and you will find the Village of Folsom with its Folsom Museum.  There you can view artifacts from the Folsom Man Archeological Site as well as many other historical items.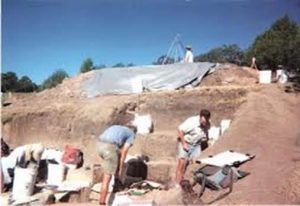 ---
The Folsom Man Archeological Site is located approximately 30 minutes to the west of the Museum off NM Highway 72.  The significance of this discovery is that it pushed back the presence of man in North America by an estimated 5,000 years to 12,000 years beyond present day. Tours of the site are scheduled approximately twice each year.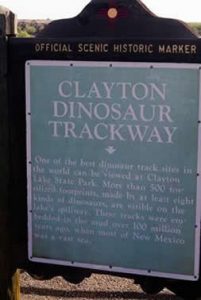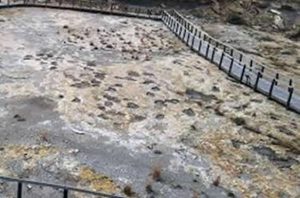 ---
Just under 100 miles to the southeast of Raton on US Hwys 64/87 and 15 miles north of Clayton NM, Clayton Lake State Park contains a fossil trackway of dinosaur tracks.  Walk a half-mile to the lake's spillway and see the historically significant dinosaur trackway, containing more than 500 footprints dating back more than 100 million years.
---
Travel a little over 40 miles to the southwest of Raton on US Hwy 64 West, and you will find the well-known Village of  Cimarron with its historic St. James Hotel and famous Philmont Scout Ranch.